Soothing Heart Wrist Mala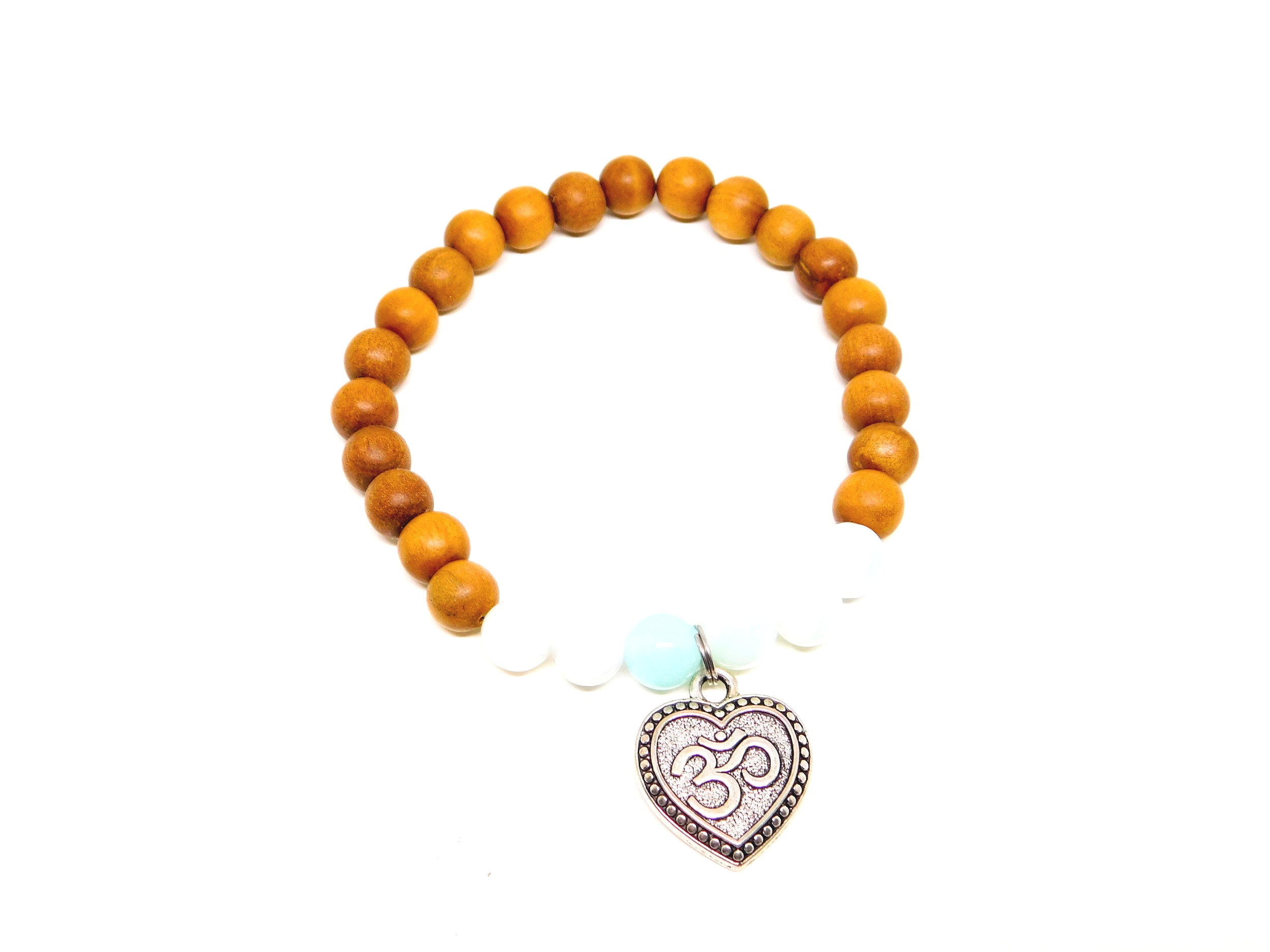 Soothing Heart Wrist Mala
8mm Sandalwood and Blue Banded Agate with a medium Heart/OM charm. This sandalwood smells AUMAZING!
Blue Banded Agate - is a stone that brings about calm and well-being. It is known as being linked to the Throat chakra making it a good choice for communication both spiritually and physically. It is a good choice for inner turmoil and reducing stress. Blue Banded Agate is a rock star for soothing an overactive mind and calming nerves. Similar to the effects of gazing at a pale blue sky that stretches out to the horizon, Blue Banded Agate is the best tool for relaxing and maintaining a calm demeanor.
Sandalwood - is one of the traditional materials used for malas. A soothing, peaceful and fragrant wood it is said to attract positive subtle vibrations, bring clear perception, promote tranquility and a positive frame of mind. Sandalwood is an antidepressant, antiseptic, insecticidal, and sedative wood. It can assist in the healing of cells and is used to assist the immune system in any healing process or to prevent illness. Calming Sandalwood is a wonderful meditation tool. Its sedative property clears stress from the nervous system.
OM - The "Om" represents the four divine states of Brahman - metta (loving kindness), karuna (compassion), mudita (sympathetic joy), and upekkha (equanimity). The syllable OM, which is the imperishable Brahman, is the universe. Whatsoever has existed, whatsoever exists, and whatsoever shall exist hereafter, is OM. And whatsoever transcends past, present, and future, that also is OM. Brahman can be viewed as divinity – both the divinity within the Self and everything else which is divine, including that which creates divinity. A technique that can help if you are unfamiliar or uncomfortable with the concept of Brahman is to replace it with whatever word you associate with a higher power. It can be God, Jesus, Buddha, Mother Nature or anything else that represents the divine to you. Om is the sound that represents this higher power and its connection to each of us. During meditation, when we chant OM, we create within ourselves a vibration that attunes sympathy with the cosmic vibration and we start thinking universally. The momentary silence between each chant becomes palpable. Mind moves between the opposites of sound and silence until, at last, it ceases the sound. In the silence, the single thought—OM—is quenched; there is no thought. This is the state of trance, where the mind and the intellect are transcended as the individual self merges with the Infinite Self in the pious moment of realization. It is a moment when the petty worldly affairs are lost in the desire for the universal. Such is the immeasurable power of OM.