Pursuit of Compassion - New Year's Eve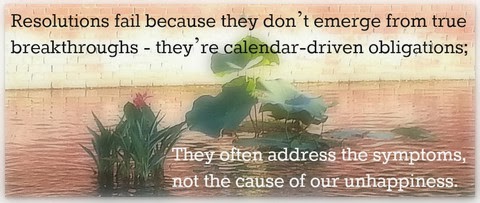 Happy New Year's Eve! I'd like to be the first to welcome you to 2014 albeit a few hours early. As 2013 draws to a close and 2014 is right on its tail...surely most of us are looking back on 2013...and possibly more importantly (at this moment) looking forward to 2014. Why do we do this? What is so significant about this one day?
Many of you have already created (some months ago even) your New Year's Resolutions. Even the news outlets are jumping in on this tradition. Don't get me wrong...these resolutions normally are a 'good thing' IE: Lose weight, stop smoking, eat better...these just make sense. Right? Nothing wrong with being healthy. A deeper look into the meaning of the word...or the possible root reason of why we make resolutions and things begin to clear up.
A resolution is about resolving something that is wrong. If we think we are less than perfect...We will fail! An intention is about creating something new, fun and good. In addition to our best qualities. ❤️ - Suzanne Manafort (Mindful Yoga Therapy for Veterans with PTS)
So this year...I will not make a resolution, rather I will set an intention. In my case...a year long intention...hopefully longer...no judgement! I intend to be more compassionate! At first glance, you might think that making an intetion like this sounds a whole lot like a resolution.
Do I think there is something wrong with me? No! However, I know that my body has been beaten up with this nasty thing called P.T.S.
Do I think I'm less than perfect? No! However, I know how often I sit in my corner doing nothing but avoiding what needs to be done.
I am compassionate...just not as compassionate as I use to be. Thus, I intend to be more compassionate...thus...Pursuit of Compassion.
Throughout the year, I will post about my pursuit. Several of my friends who work in the field of Yoga, Meditation, Physchology, Social Work, and Care Providers will share with us their take on compassion too! I will blog, post pictures, write poems, make t-shirts, make
! Just about anything and everything. I hope you will join me! BTW...I'm already practicing compassion...as I was planning on having a new logo and graphics pacakge for this....and as of today...I don't have it. I'll be OK!
Another fresh new year is here . . .
Another year to live!
To banish worry, doubt, and fear,
To love and laugh and give!
This bright new year is given me
To live each day with zest . . .
To daily grow and try to be
My highest and my best!
I have the opportunity
Once more to right some wrongs,
To pray for peace, to plant a tree,
And sing more joyful songs!
- William Arthur Ward